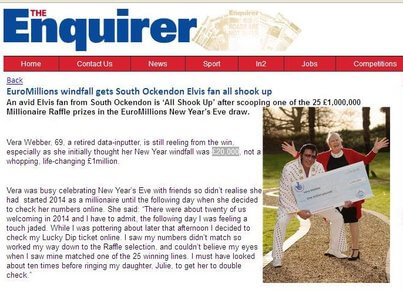 Avid Elvis fan Vera Webber has won a great start to the new year.  She is among the lucky new millionaires from the EuroMillions Millionaire Raffle draw.
She had bought her ticket earlier at Tesco Extra in Lakeside, but doesn't even remember having bought a ticket for the draw.  However, as she was checking her tickets the day after new year, she found that her numbers did not match and was initially disappointed.  Then she checked the raffle selection and learned her ticket number was one of those drawn.
She called her daughter Julie to veriy, believing she had won £20,000.  Her daughter corrected her saying she was  now a millionaire.
Ms. Webber plans to be prudent with her new-found riches.  She however says she will enjoy a trip to Florida Disneyland with her whole family, and maybe take a second trip to Graceland.
Read more in http://www.theenquirer.co.uk/read.aspx?id=14014