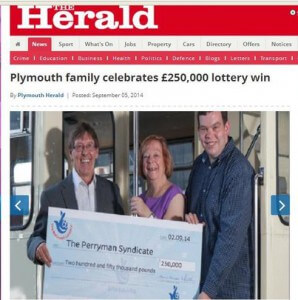 Roy Perryman had been working as a bus driver for the last decade and was looking forward to retirement next year.  Now thanks to his lottery playing habit, retirement will be much sweeter.
He and his family had regularly played the Euromillions and various scratch cards.  Their stroke of good fortune came via a 7's scratch card they had bought from the Londis store on Station Road in Keyham.  Their card matched all four numbers to bag the top prize of £250,000.
Now that their lottery dreams have come true, the family have put a new house and a car on the top of their list.
Read more in http://www.plymouthherald.co.uk/Plymouth-family-celebrates-250-000-lottery-win/story-22878222-detail/story.html