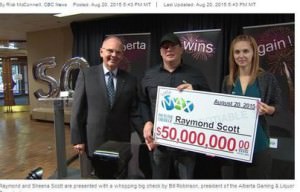 Raymond Scott and his wife Sheena had been very poor.  Just how poor were they?  The couple who married last year haven't been able to afford a honeymoon yet.  But that will change soon.
Raymond has won a huge $50 million Lotto Max jackpot.  Now he says everything is bound to change for the better.  He plans to stop driving trucks so he doesn't have to be away most of the time.  He and his wife want to buy back land that use to belong to her grandfather, and to help family from both sides.
That starts with them flying to Toronto next weekend to see some Blue Jays games and meet with investors.
Read more in http://www.cbc.ca/news/canada/edmonton/working-poor-couple-from-tiny-alberta-hamlet-win-50m-lottery-1.3198592