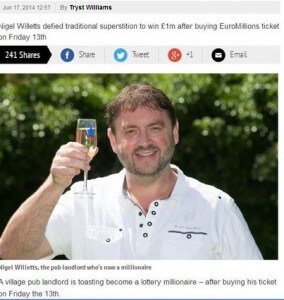 Most people are at least affected by superstitions regarding Friday the 13th, whether they happen to be superstitious or not.  But one village pub landlord has found good cause to contest that belief.  Not really a superstitious fellow, Nigel Willetts spent £20 on lottery tickets last Friday, despite knowing it was the 13th.  When he checked his tickets later, one of them managed to snag a £1 million jackpot.
Now Willetts says that Friday the 13th will always be lucky for him, for that day made him a millionaire.  He was so happy when he found out that he immediately told all his friends at the pub.
Despite being a millionaire, Willetts has no plans to give up working the pub; in fact, he wants to use his winnings to pay off the mortgage and buy the pub outright.  He is also celebrating with pub customers, buying a Range Rover, and going for a vacation in the Maldives with his partner, Jane Whittingham.
Read more in http://www.walesonline.co.uk/news/wales-news/friday-13th-turns-luckiest-day-7280424