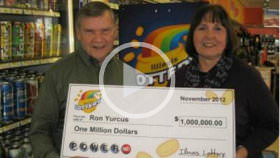 Ron Yurcus of Glen Ellyn, Illinois is a retired chaplain who rarely buys lottery tickets. Just the odd one now and again.
So it's easy to forget that you bought a ticket and maybe need to check the results to see if it won..?
But cleaning out his desk he came across the accumulated collection of 2 months worth of Powerball tickets, and decided it was time to check them.
The couple of $1 wins were fairly typical, but Ron said he wanted to scream out loud when one of them turned out to have won $1 Million from the draw 6 weeks ago.
Ron advises using the lottery wisely though – it's about a bit of fun, and he says it saddens him to see people spending a lot of money on it.