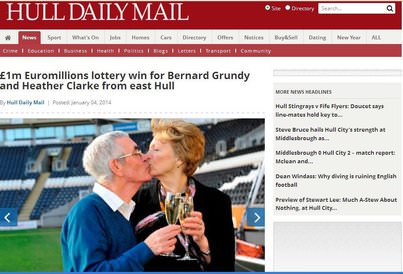 The Euromillions New Year's Eve Millionaires Draw have given a great start to 25 winners of £1 million each.  One of those lucky enough to start 2014 with a huge win include retired couple Bernard Grundy and Heather Clarke.  Apparently, for those to whom good fortune chooses to smile on even inclement weather helps.
The couple decided to come home from Dales, as torrential rains caused them to alter their plans.  It was on the way home that they decided to stop a buy a Euromillions ticket at Carl's News, Food and Booze in Holderness Road.  When Bernard checked the numbers and discovered they had won the draw, he immediately shared the good news with Heather.
The couple have no plans for the money yet, and insist that the money will not change them.  But of course it will help their family with finances, and maybe Bernard can buy a new van and a few fishing rods.
Read more in http://www.hulldailymail.co.uk/1m-Euromillions-lottery-win-Bernard-Grundy/story-20397046-detail/story.html