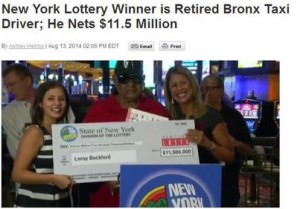 A retired taxi driver won an $11.5 million jackpot from the New York Lottery.  Leroy Beckford posted his huge win via a quick pick ticket he bought from 7 & 7 Deli and Grocery on East 241st St.  And in case you are wondering if he has a secret for winning, there is no clear answer, but the fact that he plays the lottery every day may have something to do with it.
Beckford, whose only relative is  a daughter, chose to be paid in a single lump sum of $4,591,672.  He promptly declared he wants to use his winnings to enjoy what remains of his life.
Beckford's daughter hinted her father may take up a wife now that he is financially stable.  He must really love gambling – getting married is one of the biggest gambles a person can make.
Read more in http://www.hngn.com/articles/39006/20140813/retired-taxi-driver-wins-11-million-in-lottery.htm