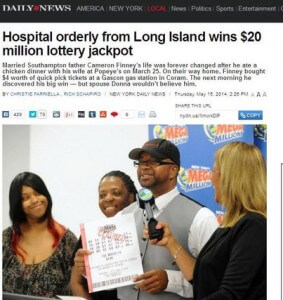 A Long Island hospital orderly named Cameron Finney had his life changed after investing $4 in quick pick Mega Millions tickets.  Each dollar returned 5 million as one of the lines on the ticket won a $20 million jackpot.
Funny thing is, when he had the ticket checked the teller mistakenly informed him he had won only a million dollars.  He promptly called his wife, who thought he was pulling her chain.  The the clerk comes back with a bigger sum for his winnings – $20 million – so he called his wife a second time and she still would not believe him.
Now that Finney, his wife Donna and daughter Christina have collected their prize, they plan to purchase a new home, buy a new Dodge Ram and maybe a Bentley.  He will also resign from his job at the hospital.
And his phone has not stopped ringing since he won.  With great money comes great popularity!
Read more in http://www.nydailynews.com/new-york/li-hospital-orderly-wins-20m-lottery-article-1.1793658