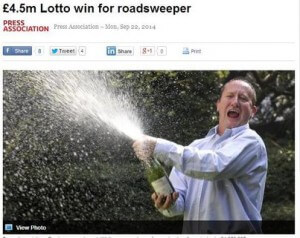 Many people just keep on buying lottery tickets while never really expecting to win.  A road sweeper named Joseph Whiting is one of those people.
He checked his tickets and discovered that he had won a £4.5 million jackpot.  He did not believe it, even after checking the ticket numerous times, so he asked his mother not to throw the ticket away, then reported for work as usual.  Even his mother would not believe him.  But this is something that he can't just sweep under the rug.  So Whiting contacted Camelot as soon as he got back home; and that is when reality began to sink in.
He has since quit his job.  He also wants to take driving lessons, buy a bigger house and maybe go on a holiday with his children.
Read more in https://uk.news.yahoo.com/4-5m-lotto-win-roadsweeper-152611903.html#LWivwBR