This Chinese lottery winner particularly valued his privacy.
Some countries do require you to accept publicity when claiming a big lottery prize. But there isn't any small print to say you can't turn up at the press conference dressed as your favourite super hero…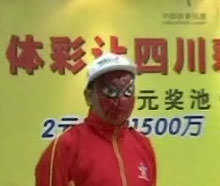 'Spiderman' has been buying lottery tickets for about 6 years now apparently.
He won over $2 Million on the lottery. And whilst he will be spending some of the money on himself, he does plan to do some good for society too.
A superhero's work is never done.