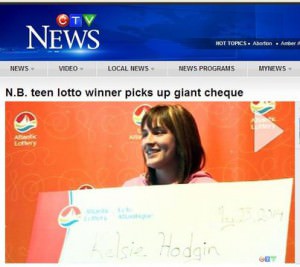 A nineteen-year old mother of one, and had the huge fortune of landing a huge Atlantic Lottery jackpot.  She is suddenly $7 million richer.
The teen mother is still shocked by the sudden turn in her fortune as she confesses that she does not normally play the lottery.  But while she was out looking for a house with her boyfriend in Sussex, she suddenly followed an urge to buy a lottery ticket – and does not have any cause to regret her decision.
Now while she may have been looking for a place to rent, she and her boyfriend now want to build their own house and keep the rest for the baby.
Read more in http://www.ctvnews.ca/canada/n-b-teen-lotto-winner-picks-up-giant-cheque-1.1835214