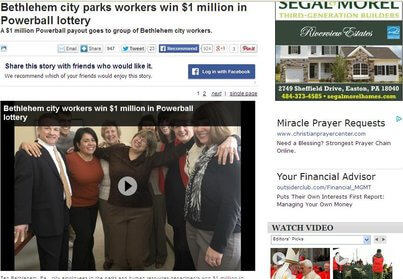 Another syndicate won big in the Powerball lottery, their win worth $1 million.  The group of Bethlehem city park workers who work on the top floor call themselves the Penthouse 10, and only contribute money for lottery tickets when the jackpot is high.
Each member of the group now stand to receive $75,000 net of taxes.  And while their shares are too small to retire on, it represents a welcome bonus.
Members of the betting syndicate have different ideas about where they will spend their share.  One wants new windows for his home, others will pay off college loans, get their children fitted with braces, and a few want to vacation on a tropical island.
One of them is more thankful than the rest.  Carp had been in a bad accident and medical bills had been a burden.  But he says God saved him life and blessed him with the win to enable him to pay for medical care.
Read more in http://www.mcall.com/news/breaking/mc-powerball-bethlehem-pa-parks-dept-employees-win-20140220,0,3068321.story