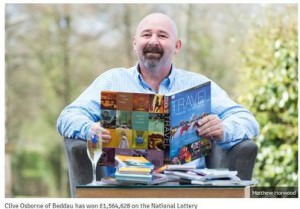 One of the things Clive Osborne has done really well is caring for his elderly parents who are in their 80's.  The other thing seems to be regularly playing the same lottery number combination every week for years.
The carer who wants to travel around the world finally hit it big in Saturday's draw and scooped a £1,564,628 prize.  As he is a known joker, his parents would not believe him at first, and he could not sleep for days afterward.
Now Osborne is looking forward to travelling to Asia, particularly India and Thailand.
Read more in http://www.walesonline.co.uk/news/local-news/lottery-jackpot-beddau-millionaire-lotto-8928893