Personally I really dislike lotteries with endless rollovers. But some games do stop this madness by using a 'roll down' rule.
The UK Lotto is one of them.
Sure, the UK Lotto still rolls over a lot (too often!). But when we finally get to a roll down draw — they call them 'Must Be Won' draws — these are awesome.
So you really should make the most of them, and play big on the rare occasions they come along.
Here's why.
This is what happened this week. Wednesday night was a 'Must Be Won' draw, and the jackpot reached over £25 Million.
But guess what? Nobody matched all 6 numbers. This triggered the roll down rule, which made this happen:-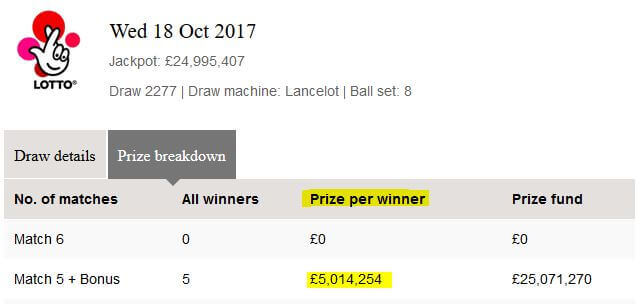 The whole pot rolled down to the next prize level. So you only had to Match 5 plus the Bonus to get the jackpot!
And because only five people matched 5 plus the bonus ball, they each won over £5 Million.
That's a really good life changing jackpot. But it was SIX TIMES easier to win because you didn't have to match all 6 main balls to win it.
This is why it's important to know what (if any) roll down rules exist for the games you play. And why you need to keep an eye on when rollovers hit critical points. Just like last Wednesday.
(NOTE: everyone on our 'What Really Works' email list knew about this special draw – you can join them here)
When Do 'Must Be Won Draws' Happen?
For the UK Lotto, these special draws only happen rarely. First, the jackpot has to reach "an amount agreed by Camelot and the Gambling Commission". This is currently £22 Million (although that can change).
Once it reaches that amount it can only roll over once more. That next draw is the 'Must Be Won' draw. And if nobody matches all 6 balls in that draw, then the roll down rule applies.
Normally the jackpot will just roll down one more prize level. As in this case — it was shared by people getting a Match 5 + Bonus prize.
But it will actually roll down until somebody in that draw wins. So in theory it could even go to people Matching just 5 numbers.
These special draws are rare, but worth seeking out and playing extra tickets and buying extra syndicate entries. Don't miss them 🙂