Hospital Worker Trio Share Lottery Luck
We are all essentially social animals; this is why we need friends to share the highs and lows of our respective lives with. There are many benefits to having very good friends by our side, and these three women who have worked together at a hospital in Victoria BC have just stumbled on one more: they have just been declared joint winners of half of a $7.2 million 6/49 Lottery jackpot! They share the jackpot with another ticket bought in Manitoba, so the women get to split $3.6 three ways.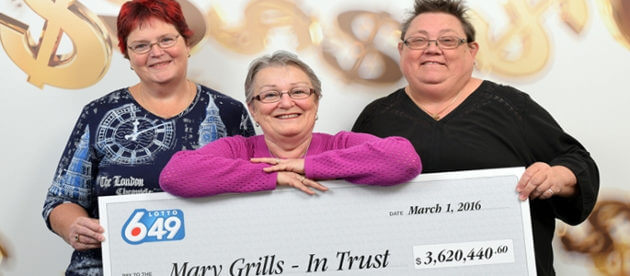 A Background On The Winners
All three women have at one time or another worked at the Saanich Peninsula Hospital. 63-year old Mary Grills is married with two children and five grandchildren. She worked at the hospital as a porter until she retired about six years ago. She is the syndicate's trustee.
56 year old Trish Little is a widow who has been working at the same hospital as an emergency department clerk for the past 37 years. Little is on holidays at the moment and had been leaning toward retirement. Little and Grills have been friends for all of 38 years.
65-year old Beverly Allaire works as a practical nurse. She is single and is the newest member of the trio.
As for their friendship, Mary Grills and Trish Little have been friends for all of 38 years. Grills and Little have known Allaire for just 23 years!
How They Won
As in most stories of incredible lottery luck, people are naturally curious to know about the details. Did the win come easily? What "secrets" did the three ladies have to help them win?
Let us begin by saying the win did not come easily to them. They started playing the same number 22 years ago when Grills picked numbers significant to her: her family's ages 22 years ago as well as her and her husband's birth dates. It took persistence to purchase entries for almost every draw in the span of 22 years; in fact they only missed one draw in the entire 22-year period leading to their win.
Aside from persistence some people swear by choosing your own set of "lucky" numbers and playing them faithfully till you win. Though this belief cannot be backed by scientific evidence, it has apparently worked for this trio of hospital workers.
Lastly, there is strength in numbers. Playing the lottery as a syndicate allows people to pool resources to place more entries or to be able to afford to play in every draw. In this case continued play gave these ladies more chances of winning.
What Now?
Since Grills came to the hospital with news of their win the three ladies have been on "cloud nine" and cannot seem to wipe the smiles off their faces. That is how much happiness having a $1.2 million share of a lottery jackpot can do!
Mary Grills is already retired so she won't have to put in her notice. She plans to pay off her bills and has bought a new car. She wants to use the bulk of her winnings to help her family.
As a widow, Trish Little can now afford to retire in style. Her original plan to retire by April has been moved up. She also has a new car and plans to do a lot more traveling.
Single Beverly Allaire will finally be able to settle her mortgage. She has handed in her two-week notice at the hospital. Like the other two, she has bought a new car and wants to travel.
After having won enough for them to be able to enjoy their sunset years, will they continue playing the lottery? Grills says yes; in fact they will be using the same "lucky" number combination. There is a chance we'll see them in the winning circle again!