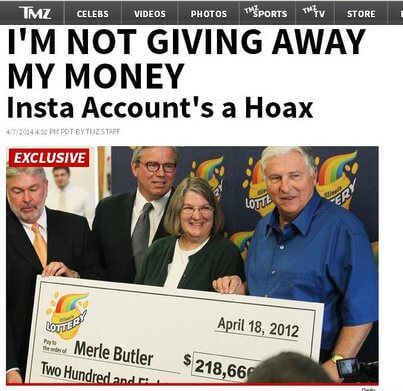 There are a lot of scam artists out there and the latest scam involves unlawfully using the name of a lotto winner who pocketed a $218 million jackpot in 2012.
A fake Instagram account was set up using the name of lotto winner Merle Butler.  A message from the fake account said she will mail $1000 checks to the first fifty who register as followers of the account.  In a testament to just how many gullible people there are, the fake Instagram account soon had 112,000 followers.  A more recent message asked people to donate $0.99 for postage.
Ms. Butler denied she is giving away her money, and authorities have been asked to investigate.
Read more in http://www.tmz.com/2014/04/07/merle-butler-lottery-instagram-giveaway-scam-hoax/