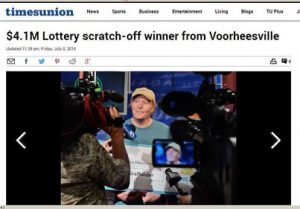 A Set For Life ticket allowed Dana and Leslie Graffunder to retire in their dream home early.
After Leslie bought the lucky ticket at Stewart's Shop on South Main St. in Voorheesville, she checked and did a customary re-check.  When the word 'life' appeared, she was in shock.  She immediately called her husband, who was home sick.  Since then they have chosen to receive the prize in a single lump sum payment of $4,172,112, which will be pared down to $2,761,104 after taxes.
The lucky couple, who have both retired after the win, says after paying their bills and helping their son financially, they have only one other plan: to buy a house by the ocean which has been their dream for the last 20 years.
Read more in http://www.timesunion.com/local/article/5M-Lottery-scratch-off-winner-from-Voorhessville-8347534.php