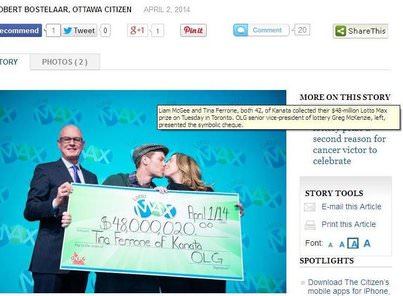 Tina Ferrone knew what she wanted to do should she ever win the lottery – open a yoga studio.  Yet she seldom bought lottery tickets.  But that did not stop her from posting a big win.  One of two quick pick Lotto Max tickets she bought  from an outlet at Billings Bridge Shopping Centre managed to win for her a jackpot of $48 million.
She discovered her good fortune when she scanned her tickets at a Shopper's Drug Mart in Kanata upon hearing that the winning ticket had been sold in the area.  That triggered a call from the lottery and caused her head to spin.  Store staff came to her aid.
She and her husband have since claimed their prize.  They're also discussing details of the yoga studio they can now put up.
Read more in http://www.ottawacitizen.com/health/Winners+lottery+prize+plan+realize+yoga+dream/9686950/story.html