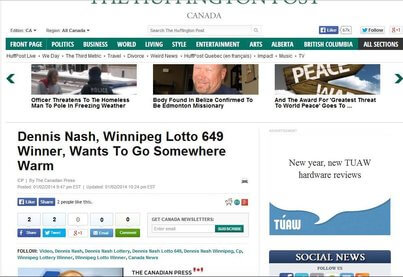 Dennis Nash went and bought a 6/49 lottery ticket one morning  betting on  important numbers and dates that his father had used.  When he called the lottery phone line just before going to sleep, he recalled that the winning numbers sounded familiar so he kept listening till the end.  That is when it dawned on him that he had won the big jackpot.
Still he called a relative to check before allowing himself to get too excited.  His ticket was one of two who split a jackpot worth more than $16 million.
His first priority is paying off some bills. And now that he can afford it, he wants travel somewhere warm to escape the negative temperatures in Winnipeg this time of year.  He's not quite planned how he will spend the money but says he will surely help family members. and friends.
Read more in http://www.huffingtonpost.ca/2014/01/02/dennis-nash-winnipeg-lotto-649-winner_n_4534115.html