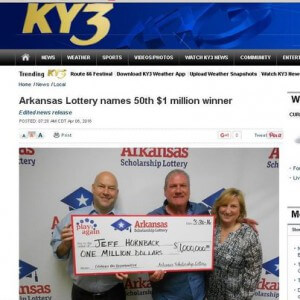 The Arkansas Lottery has announced a happy milestone -seven years after the the start of its operations, Jeff Hornback became the lucky 5oth million dollar winner of the Arkansas Scholarship Lottery.
You can say persistence played a part in the win because the ticket did not win anything on the first draw.  It was only when Hornback entered the 'used' ticket in his ASL Play it Again Rewards Club account that it won the big prize.
The happy man now wants to invest some of the money, use a little to help his grandchildren and to help other people.
Read more in http://www.ky3.com/news/local/arkansas-lottery-names-50th-1-million-winner/21048998_38890708