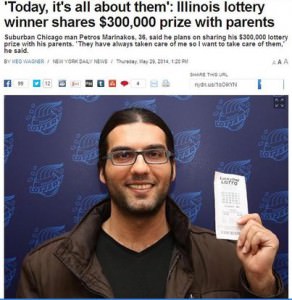 Most of us have read of scam emails telling the recipient of big lottery wins or other prizes for competitions they never entered.  But in a positive twist, a couple from Chicago have legally 'won' $300,000 lottery jackpot without buying a lottery ticket; all it took was one good son.
36-year old Peter Marinakos won $300,000 from a Lucky Day ticket he bought at a Lincolnwood gas station.  But Marinakos says in this instance his parents are the real winners because he will share the proceeds to them.  He plans to buy his parents a new car, but would really want them to decide how to spend the money.
His parents likely feel much happier than if they had won the lottery themselves.
Read more in http://www.nydailynews.com/news/national/ill-lottery-winner-shares-300-000-prize-parents-article-1.1809999