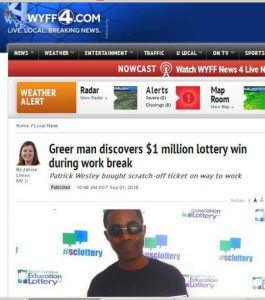 A carpentry shop worker started the day by purchasing a $10 Black Ice Millions ticket.  By lunch break he was a million dollars richer.  He promptly left work to claim his prize right away.
Patrick Wesley attributes his win to pure luck – he beat odds of 1 in 1.6 million to win the prize.  He says that the windfall will allow him to buy a house.
The Scotchman 3859 in Greer earned a bonus of $10,000 for selling the winning ticket.
Read more in http://www.wyff4.com/news/greer-man-discovers-1-million-lottery-win-during-work-break/41468532