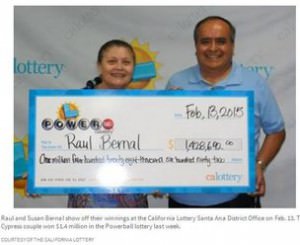 Raul Bernal of Cypress is one cool lottery winner.  After he discovered he had won $1,428,692 in the Powerball lottery, he remained calm enough to continue driving to work.
He could not resist looking over at his car where he kept his ticket from time to time, but made it through the day.  Only when he got back home did he inform his wife Susan.  Both now feel confident about retirement, but neither one has plans of quitting their jobs.
The 7-Eleven at 4502 E. Lincoln Ave. in Cypress where he bought the ticket from earned a $7,000 seller's bonus.
Read more in http://www.ocregister.com/articles/ticket-651526-bernal-lottery.html