Remember our Costco lottery winners that just scooped that enormous Powerball prize of $201.9 Million?
The syndicate have now come forward and claimed their prize. 20 giant sized winnings checks were handed out, so they could all have one each.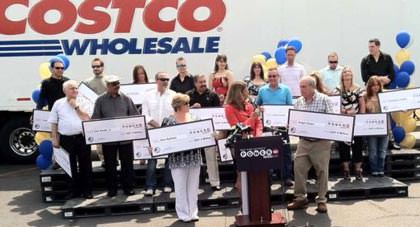 They actually agreed to take the prize as a lump sum, so after taxes will receive a total of $70.2 Million. That still leaves over $3.5 Million for each one to enjoy – demonstrating nicely the power of playing in a group.
But the question everyone is asking, including their managers, is will they be turning up for work next week?
Spokesperson for the group, Kim Karkota, said they haven't yet decided but:
We're all dedicated to making our money last, and just to breathe easy and have a happy life.
Kim explained the group all used to pay $5 a week, pooling their money to buy the tickets. But they had actually only been playing the Powerball together for just 1 month before they hit the massive jackpot.
[If you want to play in a lottery pool that covers the Powerball, try this one from Lotto Magic]
The group of 20 Costco employees from Long Island, have named themselves the '1937 Flatbush Avenue Dodgers' after one of their members. The 73 year old member (born in 1937) is a major Brooklyn baseball fan, and syndicate member responsible for picking the winning numbers.
Rumours of how the group will be spending their money vary. One suggested a trip to Las Vegas was imminent. Whilst others said they would be getting all their family together from all over the country.
Some are moving to new homes, and possibly new areas. One member said they would be upgrading their Harley Davidson.