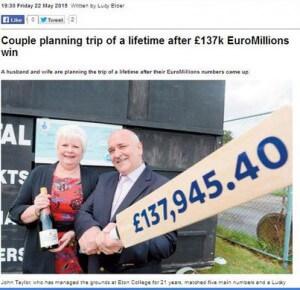 Eton College employee John Taylor knew what he wanted to do when he found he had £9.70 in his online lotto account – play some more.  That decision is now set to make life a lot easier for him and his wife Jenny.
Soon after the the draw he received an email advising of a £137,945.40 win.  The first thing he did was call his wife, and then both of them had the hardest time completing their work shifts as normal.
Now the happy couple are planning a trip to New Zealand where the wife has some relatives, and perhaps watching the English team play in the Ashes in Australia.
Read more in http://www.windsorexpress.co.uk/News/Areas/Eton/Couple-planning-trip-of-a-lifetime-after-137k-EuroMillions-win-22052015.htm