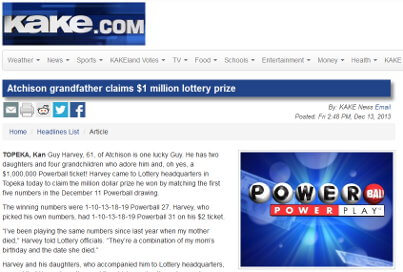 Guy Havey of Atchison may just have received a late inheritance from his late mother, a year after she passed.  He won a million dollars from the Powerball lottery using a number combination of his late mother's birthday and the date she died, which he had been placing a bet on since she passed.
He says his mother is quite a psychic, and so they were delighted to visit the lottery offices on Friday the 13th, to see a Christmas tree full of red birds at the lobby.  Red birds were his mother's favorite and, in an interesting note, the tree was put up on the lottery office lobby just the day before Guy and his daughters' visit.
Guy, who has worked at a distillery for the last forty years, likes his job too much to retire.  He plans to take a vacation, go deep sea fishing, and perhaps buy a new car with his windfall.
Read more in http://www.kake.com/home/headlines/Atchison-grandfather-claims-1-million-lottery-prize-235781851.html