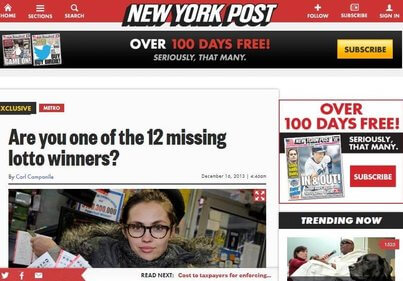 Considering that all lottery players dream of winning a big jackpot, it is a constant wonder how many jackpots go unclaimed each year.  Though unclaimed prizes benefit the lottery's charities, still it is more inspiring if the winners come forward to claim the prize they have dreamed of winning for a long time.
The New York Lottery is taking active steps to identify owners of winning tickets, as a dozen jackpots of at least $1 million remain unclaimed this year, with all of those tickets having been sold in New York city. As a first step, two TV readers are set to visit a liquor store that sold a million dollar Powerball ticket, which will expire next month.
If you are holding lottery tickets, take the time to double check the numbers.  You may be one of a dozen millionaires the New York Lottery is looking for.
Read more in http://nypost.com/2013/12/16/lottery-searching-for-mia-millionaires/