To celebrate the 25th anniversary of the Florida Lotto, they have a whole Lotto Love to give 🙂
It starts with 2,500 instant winners every week for 3 weeks – with prizes of up to $250,000. (Are you spotting the 25 trend yet?)
How Do You Enter?
Simply buy a Lotto ticket worth $5 or more, and you could instantly win $25. About 7,500 people will win on the spot.
But even if you don't, you will also get an extra voucher with your ticket. Keep it because this could be worth as much as $250,000!
Each voucher will contain a number that you must enter on the official Florida Lottery website to get an entry into 3 different prize draws.
When Do The Draws Take Place?
The first 'Lotto Love' draw is on 29th April and the second on 6th May. Both will have prizes of 25 x $250, 5 x $2,500 and 2 x $25,000.
Then the big draw will be on 13th May where 2 people will walk away with a cash prize of $250,000. But there will also be 280 runners up prizes too.
What To Watch Out For
Each voucher you get can be used for another entry. So plan how you buy your entries for maximum chances. Spend $10 and you get 1 voucher, but spend 2 x $5 and you get 2 vouchers!
Also – everyone who enters draw 1 and draw 2 is automatically entered into the big draw. But entries for draw 1 are NOT entered into draw 2. So plan when you enter your vouchers if you want to be in all the draws.
And don't throw the vouchers away after entering the numbers – you will still need the voucher to claim if you win!
Want A Better Chance Of Winning Florida Lotto?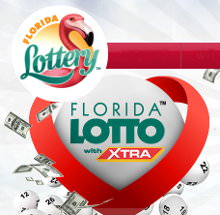 This is a great promotion and definitely worth making the most of as it really boosts your chances of winning.
But make sure you take a closer look at our Florida Lotto Magic review too. It gives you a better chance of winning the Florida Lotto and Powerball every single week.
Finally, it's a big Happy 25th Birthday to the Florida Lottery, and good luck in the Lotto Love promotion.