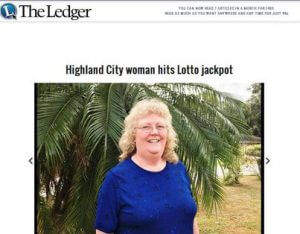 Diane Darty had been buying tickets ever since the Florida lottery started almost 30 years ago.  Now she's finally been rewarded with a big payout.
The ticket she bought at a local 7-11 store matched all 6 numbers selected in the Nov. 02 draw to win an $18 million jackpot.   She has since chosen to receive the prize in a single payment of $13 million; taxes will reduce her take home prize to about $9 million.
She and her husband Ray are looking for a new house and will fix and keep their old one.  She also plans to help her family with her new wealth.
Read more in http://www.theledger.com/news/20161109/highland-city-woman-hits-lotto-jackpot