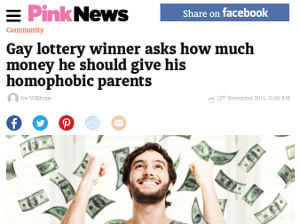 Should a winner share with his parents?  Should he be generous even if they have disowned him for being gay?  These are questions now troubling a gay man who won a $15 million lottery jackpot.
He says that he originally thought about paying off his parents' mortgage, even if they disowned him after he came out at the age of fifteen and refused to speak to him for the next five years.  But relations strained further when his parent said they feel entitled to a quarter of the money for having raised him.
Most of the people the gay winner asked on Reddit feels he does not owe his parents anything.
Read more in http://www.pinknews.co.uk/2015/11/12/gay-lottery-winner-asks-how-much-money-he-should-give-his-homophobic-parents/