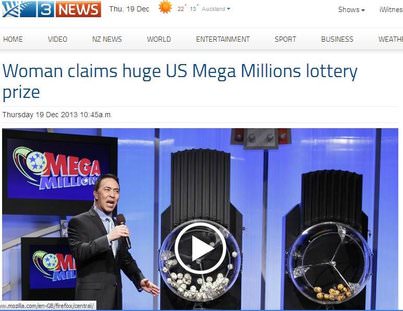 A Georgia woman named Ira Curry has been identified as one of two winners of a $636 million Mega Millions jackpot, which is the second largest Mega Millions jackpot ever.  The winning ticket was bought from a  newsstand in Buckhead, a financial centre of Atlanta about 16 kilometres from Stone Mountain.
She decided to have her daughter check her ticket when she heard over her car radio that the Mega number was 7, the same as her ticket.  Her daughter then tearfully confirmed her win over the phone.
The family is trying to avoid publicity and lottery officials have been told Curry has no definite plans for the money yet.  She is set to receive $123 million in a single payment, net of taxes.
Read more in http://www.3news.co.nz/Woman-claims-huge-US-Mega-Millions-lottery-prize/tabid/417/articleID/325749/Default.aspx