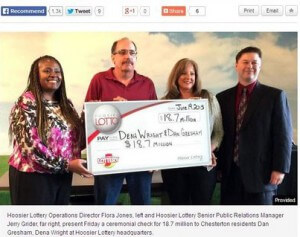 A couple from Chesterton, who have  just moved in about a year ago to be near their grandchildren, claimed an $18.7 million jackpot from the Hoosier Lottery.
Dena Wright and Dan Gresham had the only ticket which matched all numbers drawn last June 13.  While Wright wants to continue working as a real estate agent, Gresham has already given his notice at his mechanic job.
The winners later chose to receive the full amount spread over a 30 year period.
Read more in http://www.nwitimes.com/news/local/porter/chesterton-couple-wins-million-in-hoosier-lottery/article_4a741a86-680a-5b74-ae10-0ac5abe89d1c.html