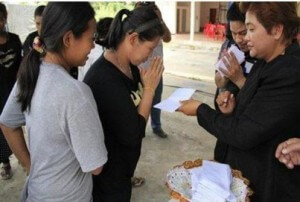 In Thailand it is customary for guests at funerals and marriage ceremonies to receive small gifts as a token of gratitude for their attendance.  The gifts usually take the form of key chains, reusable grocery bags, and herbal inhalers.
But during the funeral of Uthai Thongchat held at Wat Kuti Thong in Ayutthaya province, her daughter gave out 300 lottery tickets worth 30,000 baht to the guests.  The daughter explained that she was a ticket seller and her late mother loved playing the lottery.  She was thus inspired to give out the tickets hoping one of her guests win something big.
And wouldn't it be nice if one hits the jackpot?
Read more in http://www.bangkokpost.com/news/general/561415/lottery-tickets-given-to-funeral-guests