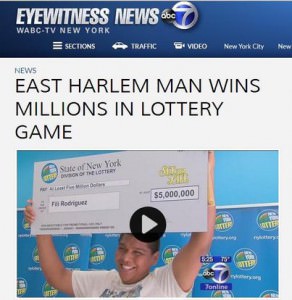 Lady luck visited Harlem, but the lucky man took his sweet time checking his ticket.  By the time Fili Rodriguez scratched his ticket, he had already gone home, taken a bit of rest, and had dinner.  The "Set For Life" scratch-off ticket he had bought earlier at the Stop 1 Gourmet Deli at 1775 Lexington Ave. in Manhattan, came up a big winner.
The first thing Rodriguez saw was the coin, which meant there was an instant prize, then came the $5,000 a week prize amount.  The father of one was so excited that he called up his parents to share the good news, and was promptly advised to be smart about the money.
Rodriguez chose to receive a one-time payment of $2,468,752.  He also shared that he has nothing planned for the money yet.
Read more in http://7online.com/news/22-year-old-lottery-winner-nearly-forgot-about-ticket–/188875/