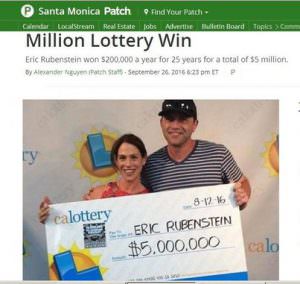 We've heard different ways people were seemingly lead by a series of events to big lottery wins.  A trip to the grocers, buying food or drinks, dreams, lucky numbers are just some of them.  In Eric Rubenstein's case it was a splitting headache which lead him to riches.
Rubenstein was on the way to another outlet after finding his usual outlet crowded when a headache caused him to stop by a CVS, where he also decided to buy a $5,000,000 Platinum Payout instant ticket.  Scratching revealed he had bought a $5 million winner.
The winner and his wife want to invest the bulk of the money, buy a house, start college funds for their children and donate to charity.
Read more in http://patch.com/california/santamonica/santa-moncia-mans-headache-turned-5-million-lottery-win