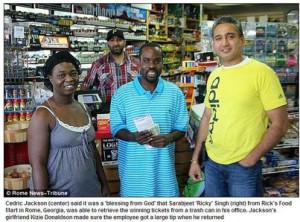 Cedric Jackson was lucky to win $10,000 on a lottery ticket.  However, by the time he realized it, he had already asked the shopkeeper to throw them in the trash.
Jackson immediately went back to the store and sifted through the trash, but was not able to find the lost ticket.  Luck came to his rescue in the form of an honest shopkeeper named Sarabjeet Singh, who found and returned the winning ticket to him.  Jackson's girlfriend made sure the shopkeeper was rewarded with a big tip.
The winner plans to pay off bills and help his family from the proceeds of his win.
Read more in http://www.dailymail.co.uk/news/article-3186295/Man-throws-away-winning-10-000-lottery-ticket-recovers-thanks-kind-shopkeeper-helped-trash-can.html