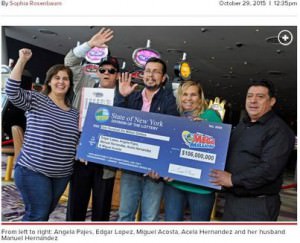 What is better than winning a big lottery jackpot?  A group of five players will probably say it is winning a big jackpot with your friends.
The syndicate of five, who have been playing the lottery for ten years hit a Mega Millions jackpot worth $106 million in the Sept. 11 draw.  Now all of them are multi-millionaires after opting to receive the prize in a single lump sum payment.
These five friends now have a positive mem0ry of 911!
Read more in http://nypost.com/2015/10/29/five-friends-win-lottery-after-a-decade-of-buying-tickets-together/