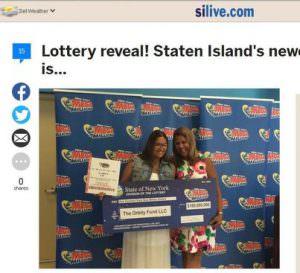 When the Powerball Lottery's jackpot neared $1 billion in January, Nancy Viola dreamed big.  But apparently, the lottery has other plans.
Viola's husband bought Powerball tickets from the 2520 Foodmart in Willowbrook at her bidding.  But after finding he had a dollar extra, the hubby decided to buy one quick pick Mega Millions entry as well.  While none of the Powerball entries won, the lone Mega Millions ticket was revealed as the sole winner of a $169 million jackpot in the Jan. 08 draw.
The winner's plans for the money includes investments so ensure her financial security in the years to come.
Read more in http://www.silive.com/news/index.ssf/2016/06/lottery_reveal_staten_islands_1.html