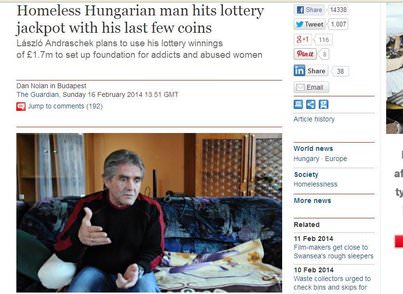 To say László Andraschek was down on his luck a few days ago would have been a gross understatement.  He had been unemployed, in debt, and living in the streets of Hungary.  However, the homeless and presumably hungry man took a gamble and used up the last of his coins not to buy food, but a lottery ticket.  Now Andraschek can buy half a dozen homes if he wants to after winning a huge 630m Hungarian forint (£1.7m) jackpot to become one of Hungary's biggest lottery winners.
Incredibly, his win was largely kept low key until somebody noticed a big donation he made to a homeless shelter.  A recovering alcoholic, he is also looking to establish a foundation to help addicts and abused women.
Since his win,  he has paid off his debts, bought a car, and homes for his children.
Read more in http://www.theguardian.com/world/2014/feb/16/homeless-hungarian-lottery-win-laszlo-andrasche