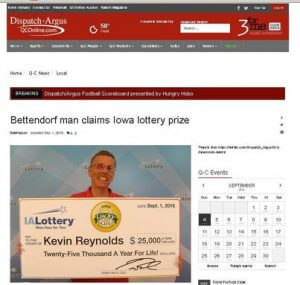 What's it like when your boss knows you have won the lottery before you do?  Ask Mr. Reynolds who works at the produce department of the Hy-Vee at 4064 E. 53rd St., in Davenport.
When the store sold a winning ticket the managers reviewed security footage which seemed to show Reynolds was the winner.  His bosses then sat him down and asked him to check his tickets;  that's when he found out he had won a second prize of $25,000 a year for life.
The winner says this will make his retirement a lot easier.  He still plans to play the lottery from time to time.
Read more in http://www.qconline.com/news/local/bettendorf-man-claims-iowa-lottery-prize/article_5686167d-0fbc-5c34-8782-ba2fe2d78ac7.html