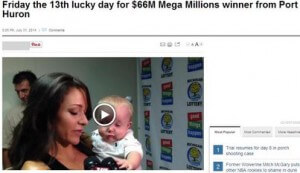 Superstitions about Friday the thirteenth may have caused a woman who bought a Megamillions ticket on June 13th not to expect anything life-changing.  In fact she kept the ticket just in her purse eleven days after the draw date.  But had she known the ticket won a $66 million jackpot, she would not have been so careless where  she put it; she might even have put it in a vault.
When Kelsey Zachow finally had her ticket scanned at a nearby gas station, all the clerk would tell her was that she won big.  But that was enough to cause her to rush  back home screaming in excitement.
Now Zachow does not need to juggle two jobs; the nearly $27 million she received in a lump sum net of taxes makes her financially secure.  She is also looking to buy her dream home, help relatives, fund scholarship for young members of her family, buy a new car and go on vacations.
Friday the thirteenth can't be all that bad!
Read more in http://www.freep.com/article/20140731/NEWS04/307310137/Port-Huron-woman-wins-Mega-Millions