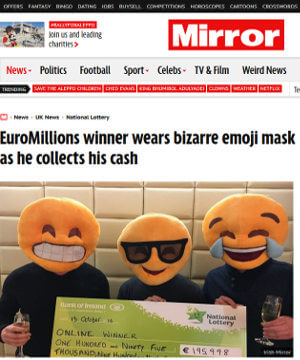 Some people don't want to be burdened with the pressures of being revealed as a lottery winner.  The lottery allows them to remain anonymous even photographing them in emoji masks!
An online player who won £175,000 after matching five numbers and a lucky star in the Oct. 7 draw went to the lottery offices to make his claim along with two friends, all of them wearing emojis.  His friends never knew where they were going till the last minute.  The man says he'll settle obligations and then think about celebrations.
Another man, who has also requested anonymity won a bigger prize of £450,000 in the Euromillions Plus draw.  The man says the money will go a long way toward securing his family's future.
Read more in http://www.mirror.co.uk/news/uk-news/euromillions-winner-wears-bizarre-emoji-9041355