People just buy lotter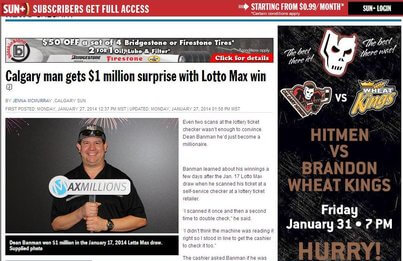 y tickets hoping to win, without ever really expecting to.  And Calgary man Dean Banman is living proof of this.  He bought a Lotto Max ticket that won a million dollars.  But two scans on a machine is not enough to convince him of his good fortune, so he asked a clerk to check it for him again.
All the excitement must have showed on  his face that the clerk asked him if he was alright.  As soon as his win was verified, he called up his dad with the good news.  He has done some celebrating with friends since then.  His plans for the money include a house for his parents, and a house and vehicle for himself.
He purchased the winning ticket, a quick pick, from Young's Variety Shop in Calgary's Village Square Shopping Centre.
Read more in http://www.calgarysun.com/2014/01/27/calgary-man-gets-1-million-surprise-with-lotto-max-win