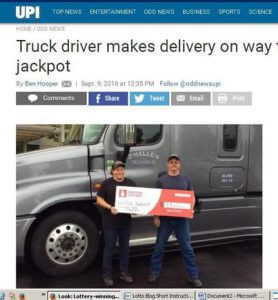 When a truck driver came to collect his lottery jackpot, he brought his rig along.  He did not do it because of the size of the prize, but because he dropped off a load of drywall on the way over.
This is the first time for Eric Tackett to win big, so he found it hard to believe he had won $9.4 million, but everything checked out.  He later chose to receive the prize in a single payment of about $3 million net of taxes.
The TA Truck Stop in Coburg earned a bonus of $94,000 for selling the winning ticket.
Read more in http://www.upi.com/Odd_News/2016/09/09/Truck-driver-makes-delivery-on-way-to-claim-94M-lottery-jackpot/1091473438077/