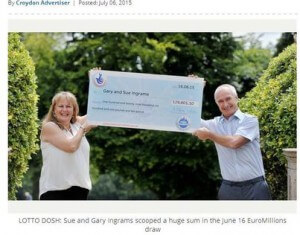 A day of strange occurrences ended with a couple bringing home a £129,610.10 prize from the June 16 draw of Euromillions.  And winners Gray and Sue Ingrams were only able to buy their tickets 9 minutes before the draw!
Earlier in the day, even if he seldom played the lottery, Ingrams stated that his mum's ticket did not matter because he was going to win.  Still strange they say is the multi-colored clouds at sunset which they took to be a vision of either their guardian angel or the stairway to heaven.
With the money from their five-number match, the couple plan to buy another apartment in Tenerife to accommodate their children and their families when they visit.
Read more in http://www.croydonadvertiser.co.uk/New-Addington-couple-celebrate-figure/story-26842132-detail/story.html