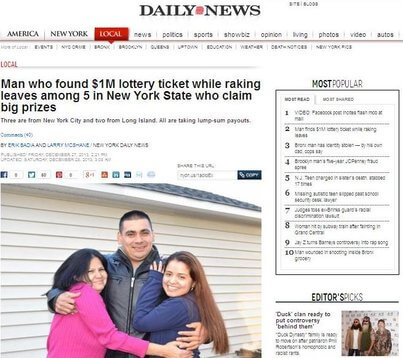 Who would have thought that big treasure could lie in big pile of leaves?  But that is exactly what Long Island landscaper Marvin Rosales-Martinez found while at work raking.  And luck found Marvin in the form of a wet lottery ticket he found rolling with the leaves way back in October 2012.
Marvin took the ticket home and dried it, but his mom initially told him to throw it away.  They're now both glad he didn't listen as the ticket turned out to be worth a million dollars.  The lottery took a year to investigate and make sure there are no other claimants, but have now decided to award the money.
Marvin will take the cash option to receive $515,612 after taxes.
Read more in http://www.nydailynews.com/new-york/1m-new-york-lottery-winners-claim-prizes-article-1.1559637