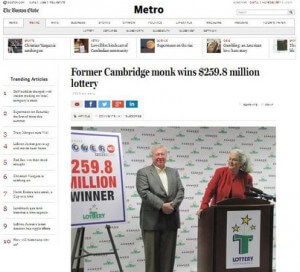 Lady luck can be a bit cruel sometimes.  There are many of us for whom the dream of a big lottery jackpot has yet to be realized, yet a man who has taken a vow of poverty goes on to win a huge $259.8 million Powerball jackpot!  The prize just happens to be the largest jackpot ever won in Tennessee.
The winner is Ray Cockrum, a brother of Society of Saint John the Evangelist in Cambridge between 2003 and 2008.  It was while at the monastery that he took a vow of poverty, but had to leave in 2008 to care for his parents.
Cockrum has chosen to receive a single payment of $115,147,525.50, net of taxes.  He has also announced that he will give most of his winnings to charity.
Read more in http://www.bostonglobe.com/metro/2014/07/07/like-manna-from-heaven-former-cambridge-monk-wins-million-lottery/8kVthjJDHVEB1230tdQC6H/story.html