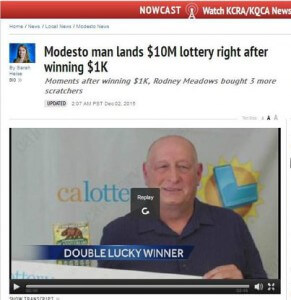 Sometimes it takes persistence to win the big bucks;  this seems to be what Rodney Meadows win proves.
Meadows typically buys 4-5 scratchers per week.  Last Nov. 23, he picked up a few California Lottery 30th Anniversary tickets.  His first ticket immediately returned a $1000 prize.  Not content with a thousand dollars, he came back to the Fast Mart in Modesto and bought three more.  That is when he discovered a $10 million winner.
Meadows is still thinking about what he would do with his newfound wealth.  Meanwhile the Fast Mart earned a $50,000 bonus for selling the winning ticket.
Read more in http://www.kcra.com/news/local-news/news-modesto/modesto-man-lands-10m-lottery-right-after-winning-1k/36741150