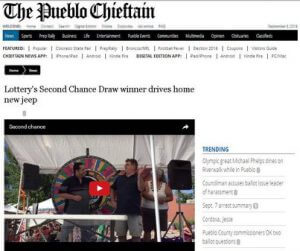 David Mark Lewallen calls playing the lottery his only vice; something that finally paid handsome dividends for him by the way.
Lewallen says he sets aside a certain amount for lottery play every month and saves the losing tickets for the second chance draw.  When the lottery displayed a yellow Jeep as the prize a lot of people sent in their losing entries, but Lewallen hoped he would win.  And win he did.
He says it is just in time to back up his old ride which is now 13 years old, and he may even use the new Jeep to advertise his real estate business.
Read more in http://www.chieftain.com/news/5119911-120/lottery-lewallen-colorado-chance