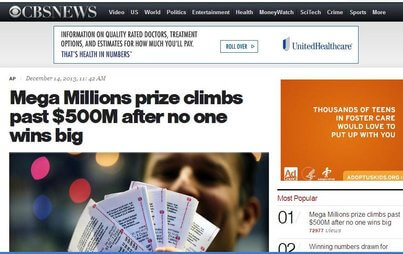 The draw of the Megamillions Lottery produced no jackpot winner for the $425 million top prize.  There being no winner in the Friday the 13th draw, the Megamillions Lottery has revised its estimate for the jackpot on Tuesday's draw to $550 million. This represents the second highest jackpot ever for the game, in which the top prize of $656 million was won in March 2008.
With no one claiming the jackpot in 21 straight draws so far, the pot is inching closer to matching or, if there are no wins for a few more draws, even surpassing the previous record.
The draw on Friday turned out the numbers 19-24-26-27-70, and the Mega Ball 12.  Nine players from different states will still have extra cheer come Christmas after matching the first five numbers.
A recent revamp of the game decreased the chances of winning the jackpot to 259 million to 1, but increased prizes for matching 5 numbers.  Sales have been up, as people dream of landing the big one.   And to have a chance at that huge sum for a mere dollar is well worth the risk.

Read more in http://www.cbsnews.com/news/mega-millions-prize-climbs-past-500m-after-no-one-wins-big/